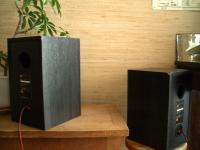 … something about serving it cold while listening to 100 Watts of bass-heavy electroclash?
Guess what the French Post finally delivered to my doorstep this morning (don't ever use their "48 hour" delivery service if you fancy seeing your stuff in less than two weeks)…
How ironic my brand new speakers should arrive on the morning following one of my dear neighbour's bi-weekly all-nighter.
9:30 am couldn't be too early to run a full sound-test, now could it?