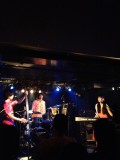 Tonight, Anri had invited me to go check out the band of a friend from high school, giving a concert for the release of their second album, so we traipsed to Shibuya at the usual Japanese concert time of 6:30pm.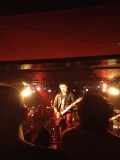 Opening for them was The Vottones, hailing from (I think) Fukuoka and playing some awesomely old-school punk rock. Having only been told about the main act, whose style is a lot more on the whimsical, not to say downright bubblegum, side of rock, hearing four angry punk rockers insult everything in sight in the dirtiest kansai-ben I had ever heard, was a bit of a surprise… But a good one nonetheless.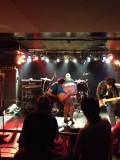 Just to give you an idea, their last song had the bassist taking over the vocals after stripping to his pants, at which point the original lead singer apparently decided to play a very special version of hide-the-sausage, with the pointy end of his guitar handle as the sausage… and the butt crack of the unfortunate bassist as the hiding place. After failing to properly impale the guy, he settled for what could possibly be described as a hybrid position: part atomic wedgie, part simulated sex act. All that while both still singing and playing their respective instruments. Punk rock concerts are brilliant.
Don't think 雨先案内人 (the headliners, whose recent big break was getting one of their track featured as the end credits song of a TV cartoon series) had any misgivings about the somewhat different artistic direction of the Vottones: they were right in the middle of the crowd, moshing with the best of them. In fact, their own between-song banter was entirely spent praising and thanking the opening act. No joke1.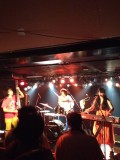 The tone and energy undeniably went down a few notches with the main act, whose sound signature could be described as the crossing between experimental rock, modern jazz and real-life cartoon soundtrack. In terms of continuity, think Peter, Paul & Mary following a particularly vicious set by the Ramones… Not to say they weren't energetic and fun in their own way.
Interestingly, A's friend was both lead singer and the drummer in the band, standing at his drum kit while leading most songs. The girl playing the keyboard had the most indefectible smile throughout the whole set and the third guy played what looked like a very streamlined (and cool looking) version of an electric upright bass, giving the trio a faint air of jazz band, if not for the upbeat lyrics and crazy sound effects.
Kick ass music, good fun and awesome night out in Shibuya…
I ♥ you, Japan [↩]