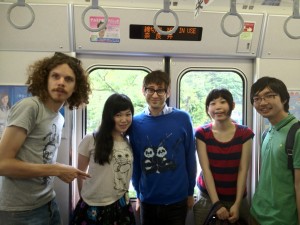 This draft has been clogging Dave Corps' backlog for ages. Now that it is no longer even remotely relevant, I figured it was about time to finish and post it.
Actually, one of the reason I did not rush to write anything of our brilliant TaicoClub weekend, was that James' professionally-edited report of the event, more competent than I could ever hope to be, made this drivel even more redundant than usual.
Anyhow, James' generous sharing of guestlist love was the reason I managed to join the gang at the last minute, long after hopes of snagging a late ticket on Yahoo Auction had all but vanished. The press passes also meant we could go monkey around backstage. But the front of the stage was usually a lot more fun.
The whole festival weekend was the usual tightly packed ball of musical awesomeness (check James' review for the meaty details), with very few disappointments save for some lulls in the programming. I must be one of the rare few people who wasn't particularly taken by Animal Collective's performance, but then again, I have never been an unconditional fan. To be fair, I felt it was more of a casting error than a bad performance: largely non-danceable, experimental low-energy rock with all lights off, did not seem the best way to headline the night… But that's probably just me.
On the other hand, morning headliner Ricardo Villalobos was just plain bad: once the fun of watching him peacocking his way around the stage subsided, all that was left was a rather uninspired set opening, with flat mixing and horrendous sense of timing (pro tip: that 'kill bass' knob is not magical… twiddling it at random against tempo does not improve the mix). There's no doubt that he can be a very talented DJ, but on that day, he seemed a lot more interested in hanging out with his entourage and basking in fans' adoration than actually playing music.
According to those who stuck around, his set ostensibly improved in the second hour (probably when whatever he was on eventually wore off), but we were long gone to the other stage for Pepe Braddock, who deserved a much bigger crowd, but did a very good job nonetheless (and whose greek amphitheater-like stage had the added benefit of nice expanses of grass under the rising sunshine).
All in all, tough to top Boredoms' quasi-opening slot: 6 drummers, twice as many guitarists and a demented MC hitting with a broomstick what seemed a contraption made of a dozen electric guitar handles.
I must also apologise for having ever expressed doubt toward the ability of Josh Wink to do a proper daytime set (based on my memories of one seriously hardcore-beat set at Metamo 2008). The man turned up one hell of an awesome closing set: nicely blending harder techno and more melody-driven beats, and an overall awesome soundtrack for a sunny afternoon.