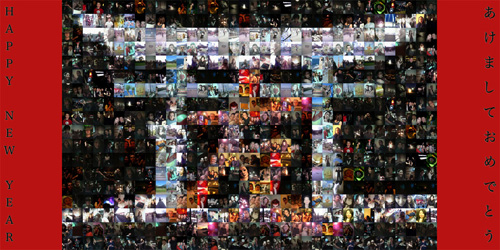 All pictures were automatically harvested from the keitai sideblog archives, the huge majority taken with my cellphone during the year 2004.
If I have met you (long enough to take a picture) in the past 12 months or so, then chances are your mug is somewhere in there (full size here if you wanna print your own poster at home).
Hence, the kanji: 友, which means 'friend'…
For, if a few here are a bit more than friends (and a rare few are, well, complete strangers to me right now), most of these faces are the friends who made that last revolution around the Sun somewhat bearable overall. Enjoyable, even, at times.
So, thanks everybody for being you: You rock.
And have a wonderful holiday season… may you find many a bottle of high quality, triple-filtered vodka in your Christmas stocking.
For those not easily bored: Gory technical details below
Continue reading