Strolling through Bic Camera the other day, I stopped in the handheld electronic Japanese dictionaries aisle and had a quick look at prices for a laugh.
Seriously, who still buys these things?
My guess is: people who also just purchased a brand new Sony Minidisc player (("fit up to twenty tracks in your pocket!")) and/or will only use devices that bears the same comforting look as the pocket calculator they had back in High School.
I don't see why else anybody would willingly spend up to twice the price of an iPod Touch on a tool that will, at best, do roughly what any iPod/iPhone does… minus the thousands of non-Japanese-related features.
Trust me, I am very receptive to the argument of the simple tool that does one thing and does it well, without the clutter and confusion of a myriad peripheral features… But if that's what it takes, buy an iPod Touch, forget it can be a music player, a web browser or a gaming platform and use it solely as a Japanese study tool: you will still be getting a better deal than with one of these ridiculously overpriced/underfeatured denshi jisho.
In case you are considering such a purchase, or if you already own an iPhone/iPod Touch and wondered what apps you should get in order to turn it into the ultimate Japanese studying tool, here are my three picks:
update 2013: The app previously called 'Kotoba!' has been renamed 'Imiwa?'.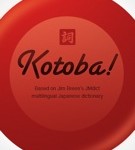 Imiwa? is the best mobile Japanese dictionary, bar none. It uses Jim Breen's public Japanese dictionaries for its data and provides absolutely every single lookup method you could ever desire, combined into a sleek and intuitive UI. If you factor in Apple's built-in handwritten Kanji input ((ok, not quite Kanji: Chinese Hanzi… but for most purposes, it will really work just the same. Just make sure you set it with Traditional Chinese, not simplified)), you have a Japanese dictionary that far outpaces any handheld electronic toy out there.
With all that and despite being a commercial-grade application, Imiwa is absolutely free! Not "free", not free (("Free… for a limited time. Purchase the full version for only $19.99")): absolutely free, as in freeware, born out of the dedication of its author, Pierre-Philippe di Costanzo. So get it now and go make a donation right after.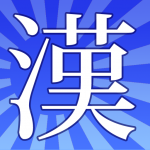 Yes, I am ever so slightly biased on that one… 😀
But there is a reason I set out making KanjiBox for Facebook many years ago: none of the other kanji-studying application came even close to what I wanted in such a product (smart drilling, stats etc.). This is still mostly true with iPhone apps.
To me, a Japanese study app should offer, at the minimum:
Intelligent questions: not just throwing a couple random kanji and asking you to pick one ("Gee, I wonder which between 大 and 嘛 could mean big")…
Smart drilling: what's the point of using a software if it cannot store my answers and use the data to adjust to my level at all time.
Progress feedback: I don't know about you, but knowing where I stand in my studies is a huge motivation factor. Sure, it's a stupid bar chart, not a perfect representation of my actual everyday fluency, but it still helps setting studying goals for myself (and knowing whether I am somewhat ready for JLPT).
These, and a couple less critical, but still thoroughly enjoyable, features, such as the competitive edge brought by scoring (and comparing with your friends), are what I expect from language-studying software in the 21st century. And you would be surprised how few (if any) of the apps out there do that.
Which is why I have no qualms recommending my own KanjiBox to all serious Japanese students.
For those who can't get themselves to purchase KanjiBox for whatever reason, I suppose my next choice would be Kanji, which fails at practically all the points mentioned above (it really is the most basic type of flashcard app), but at least has a nice clean UI and won't set you back too much with its one-buck price tag (probably still too much for what it is). As for KanjiBox's lesser doppelganger, Kanji Flip: I would perhaps recommend it (although I am no fan of its UI and self-quizzing method), but at $6, it is ridiculously overpriced (that's twice KB's price for half the features).
I am sure there are a few free applications that do most of what the ones above do (after all, Kotoba is by far the best dictionary app, and it's free). But frankly I haven't seen them yet. And you do know what they say about getting what you pay for.
#3 Japanese Podcasts
Alright, I lied, it's not an app.
But you now have a pocket-size device with a powerful dictionary and a versatile study guide: it would still be silly not to take advantage of the fact that it can play sound and music (huh, some would even say it is its primary purpose).
I have personally never found Japanese dictionary with audio cues and other attempts at replacing a basic classroom teacher, to be very useful, for two reasons: 1) you will still need to spend time with a real native Japanese speaker anyway (especially around the beginning). 2) Japanese pronunciation is really straightforward: if after a couple hours' worth of studying you cannot pronounce every single word in a dictionary, you probably need to take on another hobby.
On the other hand, nothing (and certainly not rote learning of entire lists of kanji and vocabulary) will ever replace listening and conversation practice.
Better than limited phrasebook apps, I think using the iPod for what it was meant to do —download and play music/podcasts — is a nicer way to get your regular dose of Japanese practice. As for which podcasts: there just isn't a way to recommend something that fits all levels and interests.
For beginners, Japanese 101 has a nice array of podcast material (not so convinced by their apps, on the other hand), if you are at a slightly more advanced level, I would suggest directly checking out real everyday-life Japanese podcasts, in a topic that you like. The important part being to find materials that are engaging and updated regularly…
If you really don't know where to start (and have a sufficiently advanced levels), check out NHK's podcasts: they have a variety of feeds covering many different topics from daily news to pop music (they also have Japanese lessons, but I don't know what they are worth).
Whatever you do, stay the hell away from those "Hi, I am 14-year old Mike from Arkansas, and I will be teaching you Japanese: KONNECHEVA!" podcasts… No offense, but I have a couple Astrud Gilberto records at home: you don't see me trying to teach you Portuguese over the Internet…
頑張って!
And that's it. For $201.99, you have the ultimate Japanese learning and reference device. And it even plays music for that price!
Why only three recommendations when there are literally hundreds (if not thousands) of Japanese-related apps in the iTunes App Store? Because as mentioned above, there is a beauty to simplicity. Redundant tools rarely improve your experience, they just scatter your attention (and waste your money). That being said, feel free to explore more apps (and send me your recommendations, if you think they deserve being added here ((Need I mention that "WRITE Your Name in JAPANEESE" and other "60 KANA YOU MUST KNOW" apps, really do not need to be brought to my attention.))).