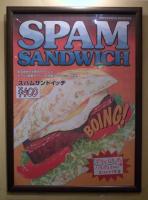 UPDATED: 12/09/2004 15:46 JST From now on, please check the central Spam Karma page to get the latest updates and news on this plugin.
Yet another techy update for my fellow bloggers using WordPress.
Now that it's reached version 1.4 and that most (all?) major bugs have been ironed out, I feel it's time to introduce the latest member in the ever-expanding WordPress plugin family…
Spam Karma is a mean critter that truly enjoys killing
In fact it is so mean that we had to keep it in a special military-grade containment unit on this server.
Genetically engineered in the dark recess of our Secret Spam Research Labs and trained through months of reflex conditioning and shock therapy, this thing, once unleashed on your comments, will only let go of its death grip after the last spam has been shredded to pieces.
We haven't fed it for a week now, and it could smell spam miles away in its sleep.
But while a fierce and merciless spam killer, this plugin is also a perfect companion for your kids and friend's comments. Only the unmistakable foul stench of spam will trigger its ire… while questionable, yet potentially legit, comments will always be given a chance to clear themselves before being irremediably disposed of.
If you are using WP Plugin Mgr, install is as easy as a click on the "Check Updates" button and a click on the "One-Click Install"… Yep, that's all.
For those still stuck in the last century, a manual install archive is available here. Please, please, RTFM: it's short, sweet and contains essential details.
Once installed, make sure you check at least once the Option screen (in wp-admin, click on Options >> Spam Karma).
I strongly recommend you check for updates (if you are using WPPM it will do it automatically for you) at least once a week so as to make sure you benefit from the latest bug fixes I might make.
Spam Karma v. 1.4 is now compatible with WordPress 1.2: however due to the lack of certain functions in WP 1.2 Plugin API, some of the features are missing (Option Page integration etc). It is fully enabled for use with any fairly recent release of WP alpha 1.3.