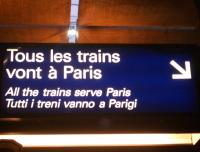 As a kid, sport wasn't really represented in the realm of family activities. My dad not really the sport guy (must be genetic), except for Judo, which is not exactly your ideal father-son bonding sport. The occasional quality time was therefore spent mostly on two things: lego and train models.
Lego was the passion of my life, my only career inspiration at the time, still would be, if not for these damn high school orientation counselors.
Train models and all these cute little house models that go around, were my dad's real interest, in true british fireplace&slippers fashion…
Unfortunately, far too frequent travels and moves always stood in the way of his grand project to turn one of the room in the decrepit family manor into a morsel of bucolic alpine landscape, complete with countryside train stations, small river flowing in the middle and of course, the perfunctory tunnel through the mountain.