Long due remaining travel notes (it's been a busy few weeks)…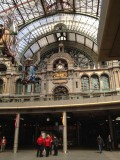 April 30th: Apparently, many residents of Antwerp consider their city to be apart from the rest of Belgium (sort of a Kyoto situation there). They are not completely wrong: while Brussels might have the economic and politic pull (especially with the EU parliament and its attached contingent of bureaucrats), Antwerp manages to fit an incredibly cosmopolitan population in a human-sized harbour city: a small walk gets you from the Portuguese neighbourhood to the medieval centre through a mini-Chinatown. It also has one of the nicest looking train station I have ever seen: seamlessly blending the original stone building with a modern structure while managing to retain most of its character.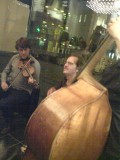 Thanks to Goldi's impeccably tuned cool-dar, we spent our Monday evening at a small downtown bar, listening to a really cool Swing/Jazz/Klezmer band. Couldn't always catch the finer nuances of the jokes in Dutch/Yiddish between songs, but still an excellent night.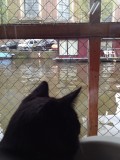 May 1st: When picking a day to arrive in Amsterdam for leisure, one may want to avoid the day just following the Queen's birthday. Not so much that you would have just missed the biggest party of the year (the city gets way enough partying as it is), but your walks through charming little canal streets will be made considerably less romantic by having to dodge mounts of rubbish, every-bloody-where. Interestingly, the tourist-oriented inner canal loop got cleaned up a lot faster than the outer areas: between tourism and residents' comfort, the priorities of the local government seem rather clear. This might go some way toward explaining why said residents only have limited love for said tourists.
May 3rd In between strolls and visits to very random locales: lots of surprisingly good food. We both fall in love with Dutch bread.
May 4th: Of all places to be a dour, passive-aggressive barmaid, you would think an Amsterdam coffeeshop would not be top of the list. Looking for a nice down-to-earth café to chill in the afternoon before Goldi's plane (the place had favourable reviews on connoisseurs' websites1), we found a place that managed to make us actually yearn for the snootiness of Parisian waiters. Listen: I get it, given the nature of your establishment, you deal with your fair share of deadbeat stoners and loud tourist assholes… I empathise, but then again: so did we during our entire stay. So what with the attitude? We are hardly the hooligan type with our beer, two teas and indoor-voice conversation.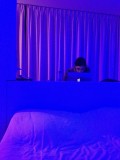 If not for the fact that its late-afternoon check-in time makes it a very impractical option for normal travellers, Qbic Hotel would be the perfect place to spend the night in Amsterdam before an early flight out of Schiphol the next morning: a reasonably-priced boutique hotel with cool room designs (better be very intimate with your roommate, though, as having any sort of door or separation between the toilet and the rest of the room was apparently judged uncool).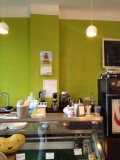 May 5th: Managed to land in Berlin within 10 minutes of little brother, himself taking a break from the exhausting jet-set life in Monaco. Time to meet-up with Roland (back in his native Berlin habitat) and heading out for a small party at Berlin's one-and-only Soy Milk Coffeeshop (also serving delicious cakes and smoothies).
Evening was, of course, rainy, which did not stop us from further bar-hopping in the north. Verdict: I still like Prenzlauerberg's bars (all typically running out of barely-reformed residential apartments, complete with original molding and living-room-style lighting fixtures), but F'hain is more fun and cheaper.
May 5th: Stepped into an actual physical video store for the first time in, huh, 10 years? You can always bet on Berlin to still have those… and I am not talking about some sort of chain shop renting out the latest blockbusters: the real indie deal, complete with obscure horror flicks and import Asian films handpicked by the staff.
Renting out a physical DVD: a couple euros. Getting to see Roland ask the über-indie store clerk about the availability of a Disney Classic: priceless.
May 6th: Paris again. Still raining, of course.
and yes, the fact that it was rumoured to boast an in-house kitty was a plus with some in our little group [↩]