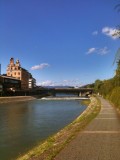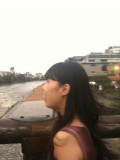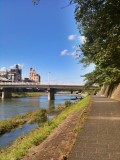 Dear reader,
Our absent-minded blogger has inadvertently mismatched all his legends, will you be able to give each of the pictures above its appropriate description? ((There's a trap!))
1. Sunny post-typhoon Kyoto bike ride along the Kamogawa.
2. Aya, post-typhoon-karaoke-night, posing in front of an unusually agitated Ducky River.
3. Late-Summer fire-sale on fireworks (¥200 for a full pack of rockets!?!) and planned excursion to Nara this week, should have the deers worried for their sleep.
4. Birthday tabe-nomi-hodai, followed by drunken antics at Philippe's, followed by even more drunken (and hazier) antics at World's.