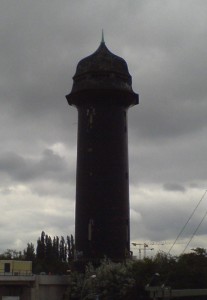 Minutes from the Ostkreuz Tower design planning committee meeting (ca. 1912):
Head of City Planning: How are the plans going for my diabolical lair of doom and despair? [strokes evil overlord's pointy beard and burst out with maniacal laughter]

Chief Architect: About that. I got your specs and there are a few details we need to go over…

HoCP: [cocks eyebrow mid-maniacal-laughter] ?

CA: Page 6, paragraph 13. When you write "The Tower of Doom shall be standing at the top of a massive dark volcano spitting rivers of glowing lava amidst bursts of thunder and the howling of a thousand souls bound for eternal damnation"… I don't think we have the budget for that.

HoCP: What? But that was a fundamental part of the design!

CA: Sorry.

HoCP: What about the flock of fire-breathing dragons, then?

CA: I doubt Animal Control will go for that.

HoCP: The moat? At least give me the moat and giant man-eating crocodiles!

CA: We looked into that and it just doesn't sound practical.

HoCP: But how are people to guess this is a train-station water cistern, if it doesn't carry an adequate sense of doom and heavy foreboding?

CA: Well, there are a few things we can do…

HoCP: listening…

CA: We could make the tower really ominous and lugubrious, like something out of a Tolkien novel. Make it entirely black. But not some sleek shiny black: we go for suffocating, light-absorbing, black-as-coal black. Something that would look great against our typical backdrop of sunless gray skies…

HoCP: Keep going, I like what I'm hearing…

CA: Shape-wise, I was thinking we'd go for a martial theme: dangerous and uninviting, military without the reassuring overtones… a pointy prussian helmet, maybe?

HoCP: That sounds awesome! And so appropriate for a building that will define the landscape of the neighbourhood. When can you start?

CA: The wheels are already in motion, sir…

HoCP: Beautiful, beautiful… [strokes mean-looking white Persian cat while adjusting glass eye] Everything is going according to the plan…

[both erupts in evil laughters]
I'm not saying this is how it happened.
But you'll have to agree there's a strong possibility.