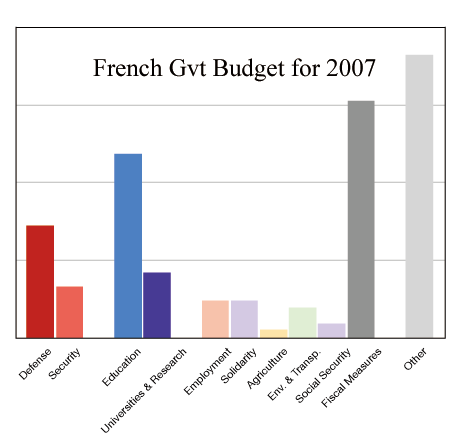 Source: Journal Officiel de la République Française

Source: US Office of Management and Budget
I have never been short of criticisms on the way certain things worked (or didn't) in France. So I figured I would take a different slant for once.
Reading about the new French budget for next year being voted in this month, inspired me to go fetch 2007 figures for both countries…

Update: A couple comments on those graphs:
I purposely left out numeric figures, as they wouldn't make much sense when comparing the budgets of two countries on a 5-to-1 population ratio (though it does makes sense to compare budget distribution).
However, maybe the scariest part is that, even on an absolute scale, French figures for education are higher than those of the US government: $88.3 million for France (59.5 million euros) vs. 56.5 for the United States. If one includes higher learning and research in those figures (and graciously throws in all US aeronautics), you get 119.7 for France (80.7 million euros) vs. 78.4 for the United States. That's right, the government of a country with a population one fifth the size of the United States' spends one and a half more on education and research.
This funny bit aside, it is important to reiterate that comparison of absolute figures is absolutely meaningless, particularly for one reason: due to its federal nature, the United States has a highly decentralized budget structure, while France doesn't.
This is twice as true for matters of education, where the US government delegates a great share of responsibility to the state level or the private sector. Depending on your political and philosophical leanings, this is either a good thing, or a ridiculously bad one.
Still, it bears repeating that the US government spends on "Defense" and Homeland Security 8 times what it spends on Education.
Meanwhile France (and most other civilized countries in the world, for that matter) spends about twice more on raising its youth, ensuring it has a basic grasp of the local idiom and can place Iraq on a map, than designing shiny new missile guiding systems.
Priorities much?