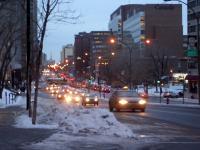 The Japanese language has no future.
Literally.
It has got a present tense, a past tense, many inflections for each, but absolutely nothing to accentuate a verb in a way that shows it is taking place in the future.
This is not as inconvenient as one might think at first: present tense is used instead, and, when the lack of context calls for it, precisions such as "tomorrow", "later", "after" clear up ambiguities.
Sometimes, though, it gives strange results.
in Japanese, "I will miss you" becomes "I miss you".
In fact, because the closest equivalent in Japanese is 寂しい (samishii: lonely, desolate), instead of saying "I will miss you" or even "I will be lonely", you say "I am lonely"…
In other news, arguing all day long while walking aimlessly in a city taken over by muddy snow and icy wind chills is about as fun as it sounds.