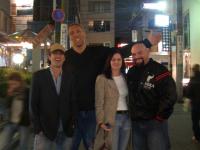 I usually do avoid the whole party report thing, hope you do realize that…
Mostly because I know that, unless you have been drinking free booze all night long, it just isn't that interesting to hear. Beside, we all have too many snorting-blow-off-hooker's-tits stories to go around… don't need any more, do we?
However, tonight was particularly fun, as we were joined for the evening by Jus' new beau and his friend/colleague, both professional Pride fighters. Following the stereotypical anti-stereotype that wants all massive professional killers to be cuddly huggy-bears in private life, they were absolutely adorable, and quite fun to be around…
So we had Andre the Giant (and in case you are wondering, all the other people on the above picture were already fairly tall) and Justine's very own Shrek the peaceful ogre.
I must say having them around made the whole Metropolis gaijin meat-market shindig much less boring…
Oh and by the way: that chick, let me venture she didn't exactly win the prize on the research and effort put into her costume… then again, I can only guess: by the time we made it there, she was merely strutting around the vip lounge in a mini-bra and a glittery piece of fabric that barely managed to hide her g-string….