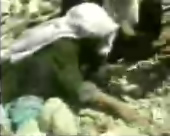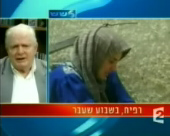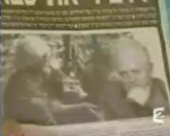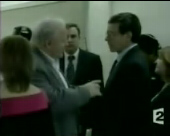 Last week, Yosef Lapid, Israeli Justice minister and leader of the centrist Shinui party (one of the least radical trend in the current government coalition) harshly criticized the recent demolitions of Palestinian habitation (allegedly an effort to "secure" the Gaza strip). A few members of Sharon's own government had already shown increasing concerns over the disastrous human and political consequences of this offensive. But Lapid went one major step further in an interview with Israel Defence Forces radio:
Referring to the TV picture, Mr Lapid said he was "talking about an old woman crouching on all fours, searching for her medicines in the ruins of her house and that she made me think of my grandmother".

"I said that if we carry on like this, we will be expelled from the United Nations and those responsible will stand trial at The Hague,"
These comments take their full weight when you know that he "spent part of World War II in a Budapest ghetto and lost many members of his family in the Holocaust, including a grandmother who died at Auschwitz." Of course, this allusion to Nazi Germany when discussing domestic policies utterly infuriated his right-wing colleagues and prompted him to quickly retract his previous statement: "I'm not referring to the Germans. I'm not referring to the Holocaust," Lapid told the Radio. "When you see an old woman, you think of your grandmother." But there is little doubt on the true reason of his original reaction: while he most certainly did not mean to draw a serious parallel between current Middle-East events and the horrors of the Holocaust, it is hard not to notice that the Israeli government is now assuming the ugly role of the persecutor in occupied Palestinian territories. Of course, in this stupid conflict,
both
sides abound with political extremists, scary religious fanatics and blood-thirsty militants.
But only one side is claiming the legitimacy of a democratic government. And lately, it has not displayed a conduct very befitting of a democracy. Many people tend to see Israeli politics as one single block united behind hard-line right-wingers. But nothing could be farther from the truth. The Knesset is divided between a ridiculously high number of small factions that form and break coalitions, successively putting the left or the Likud in position of power. Lately, under the rule of Sharon, undeniably a talented strategist and a very popular figure, who, incidentally, has been firmly written down in the books of a few Belgian prosecutors as a
War Criminal
, the Likud has enjoyed a seemingly unstoppable support and has used most of it to muddle the situation back into the mess it was two decades ago.
But if you talk to a lot of Israeli, especially the ones who do
not
currently live in Israel: the countless youth who have jumped on the first occasion to flee the downward spiral of violence engulfing their native country, you will hear a much dissenting opinion from what is usually considered the "Israeli cause". Unfortunately, this moderate majority is entirely overshadowed by a vociferous minority of fanatics who are currently tearing appart any hope of a peaceful resolution to this conflict, irrevocably damaging the Jewish State's international credit in the process. It is also worth pointing out that the much talked-about US "neo-cons", currently in control of every strategic position in the White House, have
more than a connection in passing
with the Likud.
Please excuse the crappy quality of the above pictures: they were captured with rather rudimentary tools from the low-quality streaming of an Israeli broadcast archived by France Television 2 (link to that day no longer available unfortunately). I stumbled upon this footage while watching a webcast of French TV's excellent show: "Le Zapping" (see part 6.3 of my special Links Edition entry for more info on that show).