Long due remaining travel notes (it's been a busy few weeks)…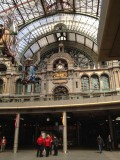 April 30th: Apparently, many residents of Antwerp consider their city to be apart from the rest of Belgium (sort of a Kyoto situation there). They are not completely wrong: while Brussels might have the economic and politic pull (especially with the EU parliament and its attached contingent of bureaucrats), Antwerp manages to fit an incredibly cosmopolitan population in a human-sized harbour city: a small walk gets you from the Portuguese neighbourhood to the medieval centre through a mini-Chinatown. It also has one of the nicest looking train station I have ever seen: seamlessly blending the original stone building with a modern structure while managing to retain most of its character.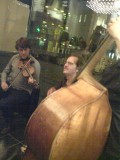 Thanks to Goldi's impeccably tuned cool-dar, we spent our Monday evening at a small downtown bar, listening to a really cool Swing/Jazz/Klezmer band. Couldn't always catch the finer nuances of the jokes in Dutch/Yiddish between songs, but still an excellent night.