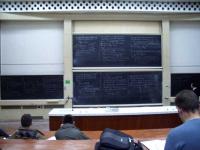 Just so you don't think for a moment that I am out there having fun when I leave this blog unattended for weeks on end…
Note that this snapshot entirely fails to convey the real Soviet-era ambiance of my 8am-1pm weekly Tuesday lecture: attended by twelve hardcore students huddled in a 300-seat auditorium, fighting sleep and hypothermia, with the dreary droning of a disinterested lecturer as background lullaby.
Can I get a Hell Yeah for advanced graph theory?!?
Hell… zzz…