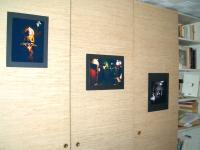 When I moved in, a few months ago, I had little time to spend on elaborate interior decoration. One of the only picture on the walls was a gift from Martine for my birthday last year.
When I finally decided to put more effort into redecorating my place, I immediately thought of asking her for a few more prints: she promptly mailed me a dozen of them, which arrived last month, although I was too busy fighting deadline psychosis at the time to do much more than file them in a corner and wait for brighter days. At long last this week, I was able to shop for some framing material and start hanging them on the walls.
And they look absolutely gorgeous!
For some reason, I have a stupendously high proportion of pro and semi-pro photographers amongst friends and acquaintances, and they all have beautiful works to boast of… But some of Martine's pictures, on top of their moving aesthetics, have this striking liveliness and journalist-like veracity that make you feel like you are standing a few feet away, inside the picture. Her pictures are the closest to a stroll through the backstreets of Tokyo you will ever get without buying a plane ticket.
If you are looking for stunning photographs to decorate your life and bring a corner of Kichijoji's parkside coffeeshops or a wandering Tokyo commuter's smile into your existence, here is your chance: Go pick and order now!