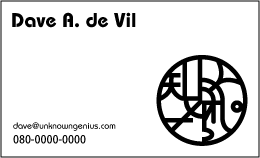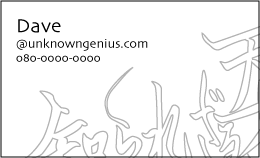 More than two months ago, I asked Eriko to help me get a new meishi, and she came through with a whole bunch of cool designs. So cool in fact, that I really couldn't decide on a single one.
So I went with two designs, which I will each use for separate purposes. I might even add a third one, depending on how these two come out.
I had been slacking on getting them printed, but finally figured I really needed to get moving (in Japan, even more so than in other countries, exchanging name cards is a mandatory part of any conversation that doesn't involve ordering a big mac with fries).
This is the semi-final design (still considering other font options) and I shall be sending it off to the printer tomorrow. Any suggestions?